Today is 24 Sep 2023





Support Earthquake Relief
in Japan and Yunnan
Earthquake Relief
We are organising a CPD course (titled "Costs in Criminal Cases" presented by Mr. David Leung, Assistance Director of Public Prosecutions of Department of Justice). David will donate his speaker remuneration to, and ALL of our proceeds (after costs) of this course will also be donated to, the Hong Kong Red Cross as relief fund to help the victims of the recent earthquakes in Yunnan (China) and Japan.
Course Details
Title:
Costs in Criminal Cases
Date:
26 March 2011 (Saturday)
Time:
9:30am - 12:45pm
Presenter:
David Cheuk Yin Leung
Senior Assistant Director of Public Prosecutions, Prosecutions Division, Department of Justice
Fee:
HK$ 1,400
Course Ref:
L11CL02
For Presenter Biography, Course Outline and other deatils, please refer to this
link
.
Advertisement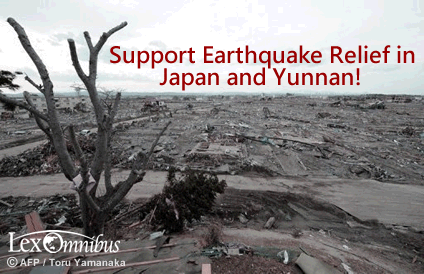 Red Cross
The profit of this seminar will be donated to Red Cross, half of it for Japan Earthquake Relief and another half for Yunnan Earthquake Relief.